It's that time of the year again and I'm here for some cozy Christmas reads! I'm at work and decided to do a little research about some of the best reads during the holiday season. Enjoy!
1. Letters from Father Christmas by J.R.R. Tolkien
"Every December an envelope bearing a stamp from the North Pole would arrive for J.R.R. Tolkien's children. Inside would be a letter in strange spidery handwriting and a beautiful colour drawing. They were from Father Christmas, telling wonderful tales of life at the North Pole.
From the first note to Tolkien's eldest son in 1920 to the final poignant letter to his daughter in 1943, this book collects all the remarkable letters and pictures in one enchanting edition."
Read more about it here on Goodreads.
2. One Day in December by Josie Silver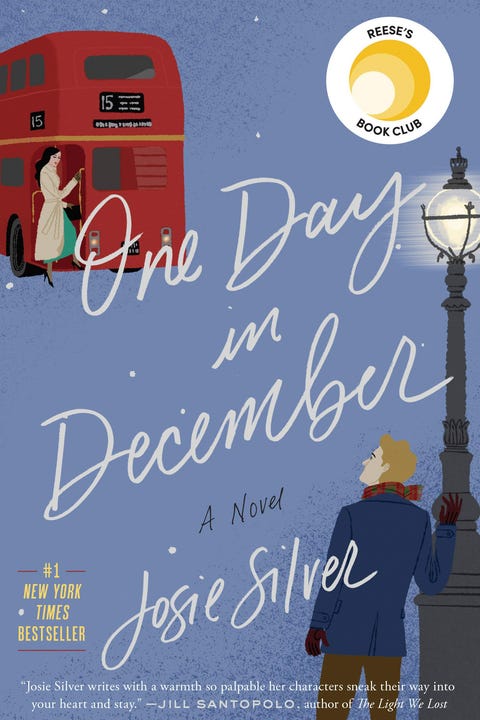 "Two people. Ten chances. One unforgettable love story.
Laurie is pretty sure love at first sight doesn't exist anywhere but the movies. But then, through a misted-up bus window one snowy December day, she sees a man who she knows instantly is the one. Their eyes meet, there's a moment of pure magic… and then her bus drives away.
Certain they're fated to find each other again, Laurie spends a year scanning every bus stop and cafe in London for him. But she doesn't find him, not when it matters anyway. Instead they "reunite" at a Christmas party, when her best friend Sarah giddily introduces her new boyfriend to Laurie. It's Jack, the man from the bus. It would be.
What follows for Laurie, Sarah and Jack is ten years of friendship, heartbreak, missed opportunities, roads not taken, and destinies reconsidered. One Day in December is a joyous, heartwarming and immensely moving love story to escape into and a reminder that fate takes inexplicable turns along the route to happiness."
Read more about this book on Goodreads.
3. Little Women by Louisaa cj May Alcott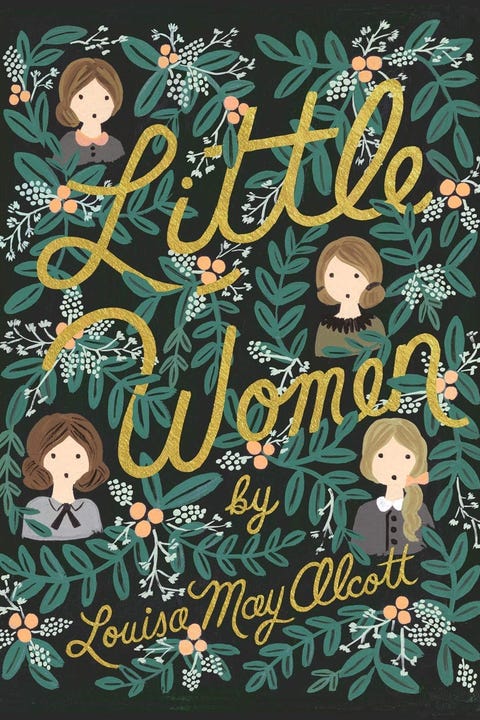 "Grown-up Meg, tomboyish Jo, timid Beth, and precocious Amy. The four March sisters couldn't be more different. But with their father away at war, and their mother working to support the family, they have to rely on one another. Whether they're putting on a play, forming a secret society, or celebrating Christmas, there's one thing they can't help wondering: Will Father return home safely?"
Listen, I couldn't NOT include this book. The new movie comes out this Christmas too!
Read more about in on Goodreads.
4. A Christmas Memory by Truman Capote
"Truman Capote's boyhood Christmas memoir, rereleased with a beautiful new packaging.

The classic story of Truman Capote's childhood Christmas ritual is more endearing than ever in this newly redesigned package.
In celebration of A Christmas Memory's enduring appeal, this repackaged edition retains Beth Peck's evocative watercolors and Capote's original text. First published in 1956, this is the story from Capote's childhood of lovingly making fruitcakes from scratch at Christmas-time with his elderly cousin, and has stood the test of time to become known as an American holiday classic."
Read more about in on Goodreads.
5. The Gift of the Magi by O. Henry
royal h
"One dollar and eight-seven cents is all the money Della has in the world to buy her beloved husband a Christmas present. She has nothing to sell except her only treasure — her long, beautiful brown hair. Set in New York at the turn of the twentieth century, this classic piece of American literature tells the story of a young couple and the sacrifices each must make to buy the other a gift. Beautiful, delicate watercolors by award-winning illustrator Lisbeth Zwerger add new poignancy and charm to this simple tale about the rewards of unselfish love."
This is one of my favorite short stories ever. I remember doing this story in my junior high thespian's group and I never forgot it.
Read more about it on Goodreads
6. Royal Holiday by Jasmine Guillory
"From the New York Times bestselling author of The Proposal and "rising star in the romance genre" (Entertainment Weekly) comes a dazzling new novel about a spontaneous holiday vacation that turns into an unforgettable romance.
Vivian Forest has been out of the country a grand total of one time, so when she gets the chance to tag along on her daughter Maddie's work trip to England to style a royal family member, she can't refuse. She's excited to spend the holidays taking in the magnificent British sights, but what she doesn't expect is to become instantly attracted to a certain private secretary, his charming accent, and unyielding formality.
Malcolm Hudson has worked for the Queen for years and has never given a personal, private tour—until now. He is intrigued by Vivian the moment he meets her and finds himself making excuses just to spend time with her. When flirtatious banter turns into a kiss under the mistletoe, things snowball into a full-on fling.
Despite a ticking timer on their holiday romance, they are completely fine with ending their short, steamy affair come New Year's Day. . .or are they?"
Read more about it on Goodreads.
7. My True Love Gave To Me: Twelve Holiday Stories edited by Stephanie Perkins
"If you love holiday stories, holiday movies, made-for-TV-holiday specials, holiday episodes of your favorite sitcoms and, especially, if you love holiday anthologies, you're going to fall in love with My True Love Gave to Me: Twelve Holiday Stories by twelve bestselling young adult writers (Holly Black, Ally Carter, Matt de La Peña, Gayle Forman, Jenny Han, David Levithan, Kelly Link, Myra McEntire, Rainbow Rowell, Stephanie Perkins, Laini Tayler and Kiersten White), edited by the international bestselling Stephanie Perkins. Whether you celebrate Christmas or Hanukkah, Winter Solstice or Kwanzaa, there's something here for everyone. So curl up by the fireplace and get cozy. You have twelve reasons this season to stay indoors and fall in love."
8. Dash & Lily's Book of Dares by Rachel Cohn and David Levithan
""I've left some clues for you.
If you want them, turn the page.
If you don't, put the book back on the shelf, please."
So begins the latest whirlwind romance from the bestselling authors of Nick & Norah's Infinite Playlist. Lily has left a red notebook full of challenges on a favorite bookstore shelf, waiting for just the right guy to come along and accept its dares. But is Dash that right guy? Or are Dash and Lily only destined to trade dares, dreams, and desires in the notebook they pass back and forth at locations across New York? Could their in-person selves possibly connect as well as their notebook versions? Or will they be a comic mismatch of disastrous proportions?
Rachel Cohn and David Levithan have written a love story that will have readers perusing bookstore shelves, looking and longing for a love (and a red notebook) of their own"
9. Holidays on Ice by David Sedaris
"David Sedaris's holiday collection is new again with six more pieces, including a never before published story. Along with such favorites as the diaries of a Macy's elf and the annals of two very competitive families, are Sedaris's tales of tardy trick-or-treaters ("Us and Them"); the difficulties of explaining the Easter Bunny to the French ("Jesus Shaves"); what to do when you've been locked out in a snowstorm ("Let It Snow"); the puzzling Christmas traditions of other nations ("Six to Eight Black Men"); what Halloween at the medical examiner's looks like ("The Monster Mash"); and a barnyard secret Santa scheme gone awry ("Cow and Turkey")"
10. Let it Snow by John Green, Maureen Johnson and Lauren Myracle
"The New York Times bestseller!
Sparkling white snowdrifts, beautiful presents wrapped in ribbons, and multicolored lights glittering in the night through the falling snow. A Christmas Eve snowstorm transforms one small town into a romantic haven, the kind you see only in movies. Well, kinda. After all, a cold and wet hike from a stranded train through the middle of nowhere would not normally end with a delicious kiss from a charming stranger. And no one would think that a trip to the Waffle House through four feet of snow would lead to love with an old friend. Or that the way back to true love begins with a painfully early morning shift at Starbucks. Thanks to three of today's bestselling teen authors—John Green, Maureen Johnson, and Lauren Myracle—the magic of the holidays shines on these hilarious and charming interconnected tales of love, romance, and breathtaking kisses."
11. A Christmas Carol by Charles Dickens
"'If I had my way, every idiot who goes around with Merry Christmas on his lips, would be boiled with his own pudding, and buried with a stake of holly through his heart. Merry Christmas? Bah humbug!'
Introduction and Afterword by Joe Wheeler
To bitter, miserly Ebenezer Scrooge, Christmas is just another day. But all that changes when the ghost of his long-dead business partner appears, warning Scrooge to change his ways before it's too late.
Part of the Focus on the Family Great Stories collection, this edition features an in-depth introduction and discussion questions by Joe Wheeler to provide greater understanding for today's reader. "A Christmas Carol" captures the heart of the holidays like no other novel."
12. Amazing Peace: a Celebration by Maya Angelou
"In this beautiful, deeply moving poem, Maya Angelou inspires us to embrace the peace and promise of Christmas, so that hope and love can once again light up our holidays and the world. "Angels and Mortals, Believers and Nonbelievers, look heavenward," she writes, "and speak the word aloud. Peace."
Read by the poet at the lighting of the National Christmas Tree at the White House on December 1, 2005, Maya Angelou's celebration of the "Glad Season" is a radiant affirmation of the goodness of life and a beautiful holiday gift for people of all faiths. "
Are you reading any holiday books this season? Have you read any of these? I'd love to know! 
To hear my thoughts elsewhere, follow me on social media: Goodreads | BookTube | Instagram | Twitter