Happy Friday everyone! I haven't written a Feminist Friday post in awhile (I know, I'm sorry!) but I'm back again to share with you some of my favorite female authors. These ladies write some of the best books and always manage to write such strong, female characters. Some of these authors are non-fiction writers but they do feminism such JUSTICE. I would consider all of these auto-buy authors as well! Here's a list of some of my favorite female authors:
V.E. Schwab / Victoria Schwab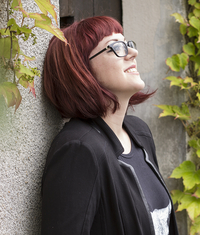 Her Goodreads Author Description:
"Victoria is the product of a British mother, a Beverly Hills father, and a southern upbringing. Because of this, she has been known to say "tom-ah-toes," "like," and "y'all."
She also tells stories.
She loves fairy tales, and folklore, and stories that make her wonder if the world is really as it seems."
Listen, I will read anything that V.E. Schwab writes. I have read almost all of her books (I haven't read the Archived or The Near Witch) and the ones I haven't read are on my TBR already. I probably already own them too! I just recently got into her books last year whenever I read the Darker Shades of Magic trilogy for the first time. I fell in love with these books and the characters themselves. Her writing is impeccable — if you want to see intense world building at it's finest, read a V.E. Schwab book. They're always so intricate and captivating. I will continue to buy and read her books because they never fail to disappoint me. She's also a female fantasy writer! I know that there's more and more female fantasy writers nowadays, but it was a male dominated genre for so long. I'm pretty sure that's why her adult books go by V.E. Schwab (bc sexism) but we still stan. Speaking of that, her female characters are always so BAD ASS. Lila Bard is the best but Marcella from Vengeful is insanely good too. I definitely recommend her books, if you couldn't tell.
Read her books:
A Darker Shade of Magic (Darker Shades #1)
A Gathering of Shadows (Darker Shades #2)
A Conjuring of Light (Darker Shades #3)
Vicious 
Vengeful (Vicious #2)
the Truth Witch
& more!
Her Goodreads Author Description: "Roxane Gay's writing has appeared in Best American Short Stories 2012, Best Sex Writing 2012, Oxford American, American Short Fiction, West Branch, Virginia Quarterly Review, NOON, The New York Times Book Review, Bookforum, The Los Angeles Times, The Nation, The Rumpus, Salon, The Wall Street Journal's Speakeasy culture blog, and many others. She is the co-editor of PANK and essays editor for The Rumpus. She teaches writing at Eastern Illinois University. Her first book, Ayiti, is a collection of fiction and nonfiction about the Haitian diaspora experience. Her novel, An Untamed State, will be published by Grove Atlantic and her essay collection, Bad Feminist, will be published by Harper Perennial, both in 2014."
Roxane Gay is an important author for me because her book, Bad Feminist, introduced me to feminist non-fiction. I've shelved every single non-fiction feminist book since I started to read her books because she made me genuinely excited about them. I loved Bad Feminist because it was the first non-fiction book that truly caught my attention and kept it throughout. I didn't even need to listen to this on audiobook because it was so entertaining. This book was actually one of my Employee Recommendations when I used to work at Barnes & Noble. If you're looking to start reading feminist non-fiction, I highly recommend all of Roxane Gay's books, not just Bad Feminist. Hunger was one of my favorite books I read last year because Roxane Gay's words are always so intelligent and well-spoken.
Read her books:
Bad Feminist
Hunger
Difficult Women
an Untamed State
Ayiti
& more!
Her Goodreads Author Description: "Rainbow Rowell writes books. Sometimes she writes about adults (ATTACHMENTS and LANDLINE). Sometimes she writes about teenagers (ELEANOR & PARK and FANGIRL). But she always writes about people who talk a lot. And people who feel like they're screwing up. And people who fall in love.
When she's not writing, Rainbow is reading comic books, planning Disney World trips and arguing about things that don't really matter in the big scheme of things.
She lives in Nebraska with her husband and two sons."
Rainbow Rowell is the author who I started out with whenever I started venturing into the YA genre. I remember a picture of my first sort of  YA book haul that featured two of her books (Eleanor & Park and Landline) and I ended up loving them both. These two are obviously not my favorites now (Fangirl and Carry On are) but her books still remain so important to me. I buy all her new releases from the indie bookstore she signs at (Bookworm Omaha) and I'm always excited to receive them. Her character, Cath, made me feel so seen whenever I was in middle school/high school. I'm forever grateful that I found her books when I did and will continue to read anything she writes!
Read her books:
Fangirl
Eleanor & Park
Carry On
Landline
Attachments
Kindred Spirits
& more!
Her Goodreads Author Description: "Chimamanda Ngozi Adichie grew up in Nigeria.
Her work has been translated into over thirty languages and has appeared in various publications, including The New Yorker, Granta, The O. Henry Prize Stories, the Financial Times, and Zoetrope. She is the author of the novels Purple Hibiscus, which won the Commonwealth Writers' Prize and the Hurston/Wright Legacy Award; Half of a Yellow Sun, which won the Orange Prize and was a National Book Critics Circle Award Finalist and a New York Times Notable Book; and Americanah, which won the National Book Critics Circle Award and was named one of The New York Times Top Ten Best Books of 2013. Ms. Adichie is also the author of the story collection The Thing Around Your Neck.
Ms. Adichie has been invited to speak around the world. Her 2009 TED Talk, The Danger of A Single Story, is now one of the most-viewed TED Talks of all time. Her 2012 talk We Should All Be Feminists has a started a worldwide conversation about feminism, and was published as a book in 2014.
Her most recent book, Dear Ijeawele, or a Feminist Manifesto in Fifteen Suggestions, was published in March 2017.
A recipient of a MacArthur Foundation Fellowship, Ms. Adichie divides her time between the United States and Nigeria."
I discovered her books around the same time that I read Roxane Gay's books and I am so glad I found them. She has two shorter books on feminism — We Should All be Feminists and Dear Ijeawele, or a Feminist Manifesto in Fifteen Suggestions! I loved both of them and actually used these for a feminist essay I did to finish off my COMP I class back in high school. Comp I is a college course but I took it early. I loved writing that essay and these books made me realize how badly I want to write my own feminist non-fiction. We Should All be Feminists is such a great intro read to feminism and it's so short so anyone can read it. It's also a TED talk but of course, I prefer the physical little book edition. I learned so much from Chimamanda Ngozi Adichie and I own several of her fiction books. I plan to finally read Americanah by her this year and I can't wait.
Read her books:
Americanah
We Should All Be Feminists
Dear Ijeawele, or a Feminist Manifesto in Fifteen Suggestions
Half of a Yellow Sun
The Thing Around Your Neck
Purple Hibiscus
and more!